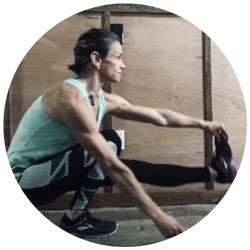 "Wait what?! Where am I? How'd I get here?!" That's basically the story of my life. I never imagined I'd be training others on this CrossFit journey. As to how I got here? I'd like to think it's a "God" thing. 
As a local pastor in Boulder City, things can get a little hectic and stressful. In 2018, I realized that just pounding out miles on the pavement wasn't going to cut it for long-term relief. Enter CrossFit. It quite literally saved my sanity, career, marriage, the lives of a few co-workers, and a parishioner here and there. After 3 years of drinking the kool-aid, I'm sold!
But seriously, my heart is for building community and CrossFit is an incredible model for doing just that. Community relies on the unity of strong, like-minded persons. I love seeing people succeed in life no matter what journey they're on – spiritually, physically, mentally, and emotionally. CrossFit training is yet another dimension of becoming a better, stronger YOU!
I live in Boulder City with my husband and am mother to two beautiful children (not biased – they're adorable). When I'm not at the gym, I can usually be found putting out fires at Christian Center Church, helping my husband out with his community-building passion (Boulder Dam Brewing Co.), writing, traveling, hiking, or running (literally) around town.